DINING EXPERIENCES
Food is memories.
At Hampton Manor, our award wining restaurants and unique private dining experiences each create a different mood, flavour and memory.
GRACE & SAVOUR
ATMOSPHERE: A place to envelope all your senses. On one side, you'll be looking onto our walled garden where we grow organically for our kitchens. On your other side, will be the open kitchen with its bar and lounge.
FLAVOUR: The most flavoursome of ingredients grown on sustainable and regenerative farms are brought to the plate with imagination and finesse. Having cooked all over the world, Chef David Taylor's finishing school was as part of the team at Maaemo in Norway, where they won 3 stars during his time there.
MENU: Dinner, Wednesday-Saturdays. 15-serving tasting menu, £155 (£135 on Wednesdays)
Lunch, Saturdays only. Eight course tasting menu £90
SMOKE
ATMOSPHERE: down in the old rustic furnace house by the walled garden, this is a home for relaxed date nights and buzzy gatherings, accompanied by a kicking soundtrack. A humble brick abode with dining amongst the vines in our greenhouses during the summer.
FLAVOUR: Soulful cooking by MasterChef The Professionals 2019 Champion, Stuart Deeley. Smoke's dishes are comforting and fuelled by the wood-fire yet with the refinement and creativity that you can expect across our whole estate.
MENUS:
Dinner: Tuesday to Saturday — Four-course a la carte £85
Lunch: Friday to Sunday — Four-courses is £65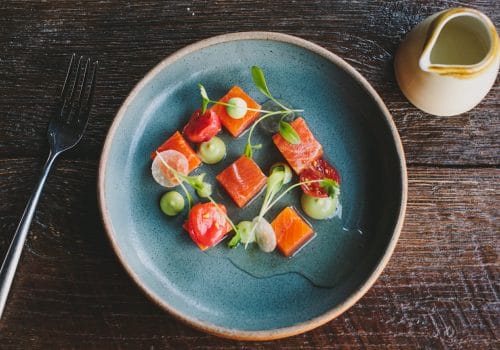 TASTING ROOM
The Tasting Room by Stuart Deeley is a private dining experience at the heart of the Manor House.  The private room seats up to 8 guests but offers views into the kitchen to see all the action.  The menu celebrates the best of the dishes from Smoke with an option of 5 or 7 course tasting menus.  Lunch offers the option of a 3 course set menu at £65 with a choice of meat, fish or vegetarian main course.  Guests are welcome to enjoy the Manor's lounge and bar area for pre-dinner drinks.
BOOK THE TABLE